Golfers go to putting greens to warm up or practice. Just like with everything else to do with the game, appearances matter. Putting green etiquette is a major factor in you and the people around you enjoying their experience.
There are two pools of people, golfers who get nervous when it's busy and those who don't care how crowded a putting green is. These two groups of golfers need to meet in the middle. Awareness and courtesy are two essential attributes of golfers when they arrive at the golf course, but especially on the putting green.
Where is it okay for me to putt? How many balls can I bring on the putting green? Can I chip? These are all completely reasonable questions to ask, and questions we've put together answers for.
Whether you're a new golfer or have played for a while but were never sure, this is your source for putting green etiquette. Bonus points if you send this Bye Bogey article to someone that's played a long time, but has forgotten every bit of consideration for other golfers on a putting green—we all know a few.

Where to Putt
If you get to the putting green and there is a hole completely open, pick that one. If there are open holes and one is already being used, do not putt there. Stick to the rules of bathrooms and bars, don't go right next to people unless you have to.
But what happens when there's not an empty hole and you need to double or triple up? You share. When someone is putting at a hole, do not also putt from the same direction at a longer distance. Instead come in at a 90-degree angle, to their left or right. I would also avoid lining up directly on the other side since you will block them if you putt the ball past the hole, and vice versa.
Feel free to move around and putt on a few different holes. It's likely others on your putting green will be doing the same thing. If there's already three people on a hole and the rest have one, maybe try one of the others first.
Putt Distance
Putting green etiquette plays heavily in how long of putts you take. The more crowded a putting green, the shorter your putts should be.
When you have sole control over a hole, you get to pick your distance. Two or twenty footers are all in play. As the green starts to crowd up, shrink the distance of your putts. If you are taking long putts, it's possible to cross paths with golfers going to other holes. Don't do that. Try to let others do their thing and hope they'll do the same.
The caveat to a crowded putting green, don't get too close to the hole. If you're putting from two or three feet away, you end up blocking a larger area than necessary for people trying to come in from different angles. The sweet spot is around six feet.

Number of Balls
In almost every situation, two or three follows the rules of putting green etiquette. There are a few benefits to this number, and also some reasons to not go higher or lower.
Having more than a few golf balls means you end up crowding the hole. Now we're not saying this because you won't make every putt—but you won't. We hardly ever make all of our eight-footers. But, with any luck they'll be right around the hole. If you have a half dozen balls, you and anyone around you won't be able to get to the hole.
When you only bring one ball to the putting green, you spend as much time chasing it around as you do putting. In the spirit of practice, it's hard to make adjustments if you have to move and fully reset. If you have another ball or two lined up, you can work on any changes you see fit. Just as how we use the line method on the driving range to work on hitting towards the same target, looking over the same putt more than once can help you improve.
Putting Green Social Etiquette
Putting greens are a naturally social place. Unlike most of the golf course, a putting green is pretty relaxed when it comes to tolerating a bit of noise. In terms of putting green etiquette, don't be afraid to talk while you putt.
I don't think I've ever been on a crowded putting green without at least one person going golfer-to-golfer making conversation. Expect it. And if you want to engage with them, set aside a few extra minutes. If you don't want to engage, move hole-to-hole ahead of the talker.
In terms of clothing and putting green etiquette, every course is different. Public courses tend to be a bit relaxed. Private courses will make you wear golf attire on their putting greens, creating a good rule to follow. You need to be comfortable in what you're wearing when you step on the course. Dress how you typically do on the course while on the putting green.
You wouldn't swap out your normal computer to write a big report for work, so why change for golf? By dressing for golf when you're on a putting green, you keep in line with social expectations and get comfortable for when you play a round.
Chipping on a Putting Green
Ditching the putter on a putting green is a conversation that varies course-to-course. At some places, it's fine. At others, don't even think about it.
If a course has fringe or rough around the putting green, it's safe to say you can chip. The tougher part of this becomes how crowded the putting green is. If it's busy, people don't want your chips whizzing by their ankles. Above all, do not chip with a lot of people around if you are not confident. Do your best to keep your chipping line away from other people, and of course leave some room for error.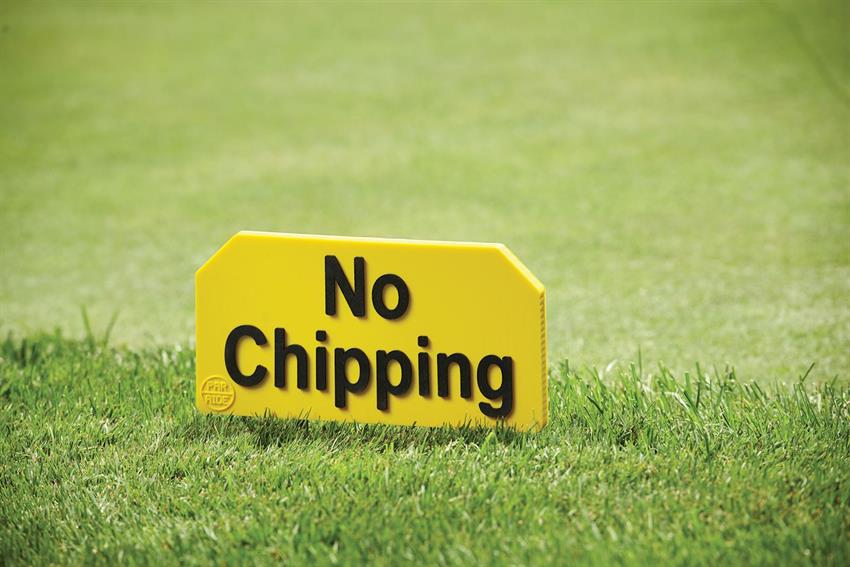 If there are "no chipping" signs on a putting green, you do not have the green light to chip. In fact, you have the red light. There is no easier way to fall out of the good graces of a golf course staff than blatantly disobeying clearly posted rules (same with cart path only). Another sign you shouldn't be chipping is the putting green has no direct grass area around it, such as when it surrounded by cart path.
One last note, if you're taking high pitches and flop shots onto a surface where people putt, fix your ball marks. If you don't know how to fix a ball mark, here's how. This isn't just putting green etiquette, it's common golfer courtesy.